When considering commercial snow removal services for your business you do not want to find yourself scrambling to dig out from the next big snowstorm. Planning ahead can save you a lot of headaches and a lot of money because you never know when the next storm is going to come!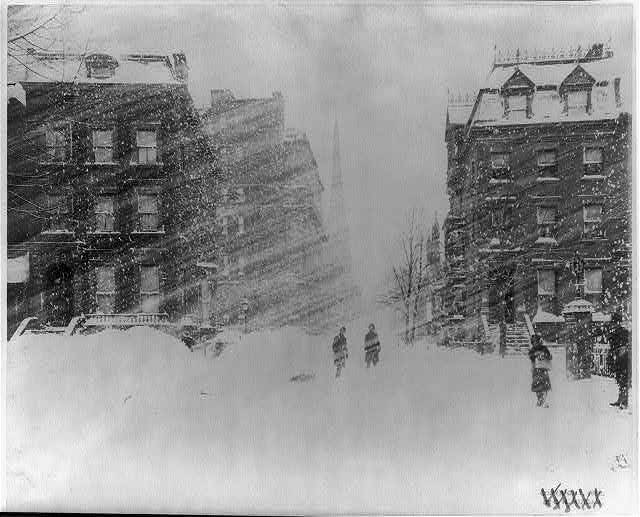 History In The Making
There are many things that motivate and define the building of our cities. Invention and innovation improve our lives in great and small ways every day. But there is nothing like a great disaster to focus our energies as the weakest aspects of our communities are highlighted for future improvement.
The great fires of New York and Chicago drove many of the building codes and city planning that have made them the great cities they are today. In the same way, massive storms such as Hurricane Sandy and the 1991 Perfect Storm affected the planning and implementation of storm preparations and the reinforcement of vital infrastructure for future disasters. But as massive as those two storms were and as devastating as the Great Fires were, they cannot measure up to the effect that a storm called the Great White Hurricane had on the cities of New England in 1888. The place that would be most affected would be the collection of bustling streets that were called New York City.
Growing Pains
New York City in the late 1800s was a loud and confusing place. The first rudimentary versions of public transit mixed with individual carts, carriages, and wagons to create a cacophony and a literal mess. As hard as they tried, the city's leaders found it impossible to improve the services provided to a population that had grown from 75,000 in 1811 to 815,000 in the last days of the 1860s. The city employed many people in an attempt to get an idea of the scope of the issues. They hoped that their insights would help them to get ahead of the tidal wave of problems they could imagine was heading their way. The specialists slowly but surely began to form ideas that would become solutions. But in the beginning, it was just raw data without a catalyst to push forward reform. As the experts made their calculations the city continued to grow.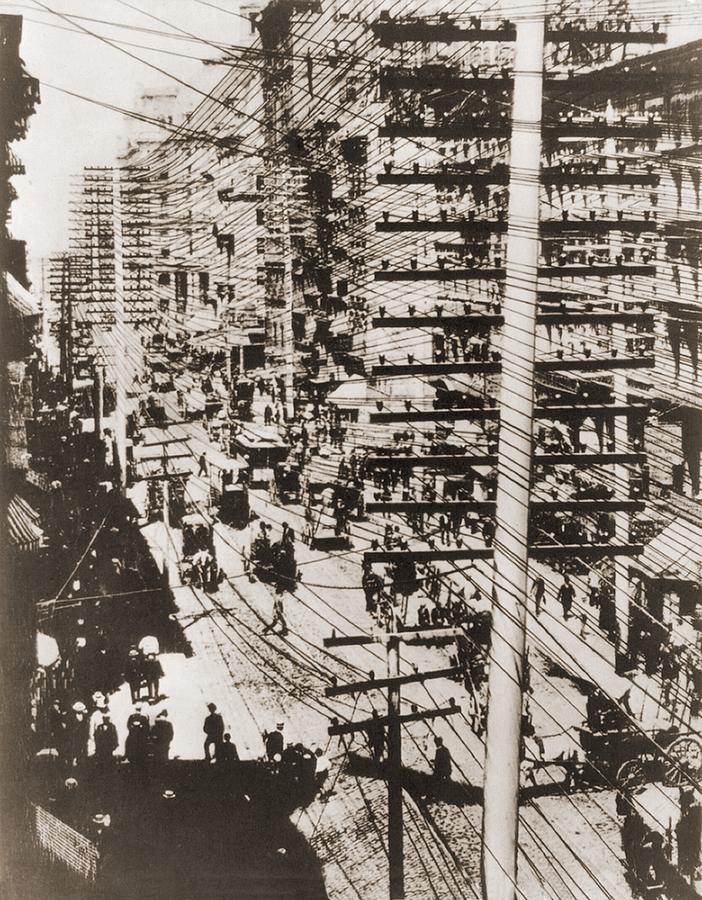 The population of New York reached 1,919,000 people in 1880 as the city expanded to encompass the entire island plus a section of The Bronx. The Bronx, Fordham, Yonkers, and New Rochelle were already growing out to touch each other. The Brooklyn Bridge opened in 1883, adding to the number of people and vehicles coming into the city. This exasperated the issues Brooklyn and Queens were already starting to realize. It also increased traffic into the already congested city center.
In the 1870s the New York elevated railway was introduced. This taking tens of thousands of people into the city on four separate lines. This only added to the need for a plan to keep the streets of New York cleaned and clear. A flood of people washed over the city every day under a canopy of wires from telephones, telegraphs, burglar alarm services, police/fire departments, and four different power companies. By 1888 the city was at a tipping point. Technology only seemed to complicate the growing issues instead of solving them.
An Unexpected Storm
It was a warm spring-like day. Early flowers were already beginning to bloom in Central Park and along Park Avenue. A frosty winter was giving way to the warmer seasons as people began to think of summer's activities. The days were so warm and spring so certain that it inspired renowned poet Walt Whitman to pen his ode "The First Dandelion" in homage to the increasingly green lawns and parks near his Camden, NJ home. He sent it to the New York Herald, being their unofficial poet laureate, and they proudly printed it. It would ironically appear in the March 12th edition of their paper…in the middle of the worse blizzard in living memory. The forecasts, such as they were in those days, called for continued warmth with evening rain for Sunday, March 11, 1888. That forecast was correct, but no one had predicted what would come next.
As folks went to bed Saturday night they were unaware that a massive storm had wandered out to sea off the coast of the Carolinas and took a sharp turn north. Meanwhile, a smaller storm that had dropped snow on cities like Green Bay, Wisconsin just a day or two before was moving into the New England area. The southern storm had everything it needed to become a dangerous nor'easter as it moved up the coast toward the northern system.
A Violent Winter Hurricane
By the time it reached Delaware it had become a vicious storm, crushing harbored ships together from there to New Jersey and causing the deaths of over a hundred seamen. As they visited in front of churches the next morning, the storm was surging toward them with growing intensity. The immense moisture pulled into that storm was about to meet the cold air flowing out of Canada. This created such a powerful blizzard that it would be often referred to later as the Great White Hurricane.
The sunny, seasonably warm Saturday gave way to an overcast Sunday. That afternoon rain began to fall that increased in intensity with each passing hour. The winds began to pick up and by that evening the area was covered in a cold, driving rain. Late Sunday night the rain switched to ice and by midnight had become a snowstorm. The snow would continue unabated for another 36 hours. The temperatures plummeted into the single digits and by 7:00 AM on Monday morning there was already almost a foot of snow on the ground. The wind gusts were between 75-85 miles per hour, driving snow down the streets and alleys of the paralyzed city as it woke up to what has been described as the most dangerous commute in US history.
The Aftermath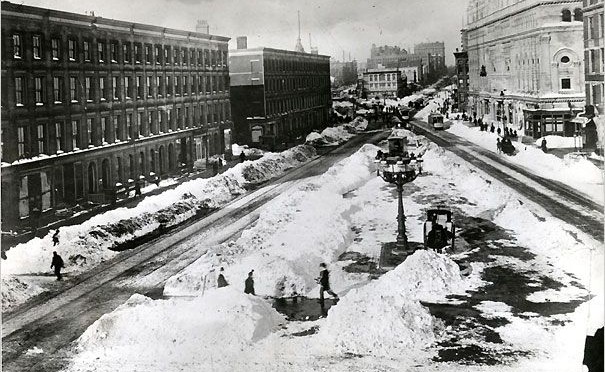 When the storm ended, the streets of New York were clogged by 40-50 foot snowdrifts. Thousands of people were stranded in elevated train cars, a story or more over the streets. Over two hundred people were dead. The streets were filled with almost 21 inches of snow…snow that no one was equipped to move. The police department was tasked with snow removal prior to 1881. But the newly-created Department of Street Cleaning was ill-equipped to handle a storm of this magnitude. The trolleys were useless and the communication and electrical lines created hazards throughout the city. New York City would be paralyzed for over two days and it would take almost two weeks to dig the city out from under all that snow. However, there was so much additional snow left that the approaching spring warmth would flood the city's streets and fill them with muck.
Finally, New York City had the catalyst that would move needed change. Electrical lines were moved underground to reduce the risk to pedestrians and rescue workers after storms and accidents. Communication lines were also buried to ensure that information could be quickly sent across and outside of the city during disasters. The elevated railways and trolley cars were removed in favor of a new subway system (although it wouldn't be completed in its initial form until 1904). And in 1894, when Col. George Waring took over as commissioner of what would later be called the Department of Sanitation, he overhauled the fledgling department and revolutionized its efficiency and capabilities. Under his leadership, the city crews transformed from a rag-tag group of half-employed men to a well-organized "militia" of uniformed sanitation workers that could make quick work of snow removal on the city streets.
Being Prepared For The Worst
While they didn't have the technology back then to predict storms like we do today, even tech-savvy New Yorkers in the 21st century get taken off guard. For instance, the mid-November snowstorm that struck the NYC area in 2018 wasn't really forecasted to dump the record snowfall that was realized. Early models had called for no more than an inch of snow if that. Before all was said and done, New Yorkers were stuck during rush hour in over six inches of snow. It had only taken five hours to fill the city with enough snow to slow us to a crawl. But things would have been much worse if we hadn't used our technology to help us mobilize equipment and materials to critical locations ahead of time. Even though the fast-moving storm dropped more snow than anticipated, we were prepared to clear it more quickly due to that preparation.
Helping You Make A Snow Removal Plan
Having a plan for snow removal and ice management during the winter is crucial to being successful. You need to be prepared to remove obstacles that will prevent your employees and your customers from entering your business. Whether you have a small employee parking lot or an expansive customer lot, we have the crew and equipment to quickly clear it. We have the experience to review your property and needs and come up with a plan tailored to your business needs. Additionally, we have the technology to keep you up to date regarding the condition of your property and the ability to keep detailed records of the work we do for you.
Our staff is available during regular business hours to review your needs and develop a contract and plan that is right for your business. We have crews located throughout the New York City area and New Jersey, as well as providing snow and ice management services in the Chicagoland area. We service all types of businesses, large and small. You will find us professional and efficient, but as helpful and friendly as we were the first day we opened our doors.
Our commercial snow plowing business can help all different types of snow removal contracts. Our goal is to help you make sure that your business is protected and open no matter the weather!
Contact us today! We are more than happy to walk you through the process of establishing a commercial snow removal contract!