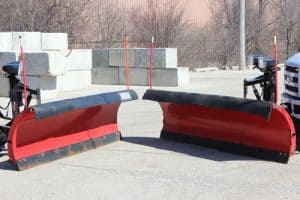 Finding a reliable snow contractor in Illinois that provides quality work is a daunting task. We have all heard the stories about slip and fall accidents in poorly maintained public areas – these are often the result of hiring a snow plow company that speeds through their work, comes too late or simply doesn't show up at all. Before you hire a commercial snow contractor, take a minute to review this best practices checklist. This checklist provides you with information that your potential snow contractor should offer all clients:
1. Safety & Liability. Potential dangers arise during snow removal – if done incorrectly, it can result in injury to people or damage to the property. Snow contractors should have appropriate liability insurance to cover any bodily injury or property damage that could potentially occur as a result of their work.
2. Estimating & Planning. Be sure to walk your potential snow contractor through your property and discuss what needs to be cleared during the winter months. They should have a clear plan for executing snow removal, and they should be able to give you an accurate estimate of all charges in the contract. If there are any possible challenges or problem-areas on your property, the contractor should address these in the planning stage so unexpected issues don't arise during snow removal.
3. Execution. Unfortunately, you won't know first-hand about a snow contractor's execution until they actually do the job. However, you can request references and check with the Better Business Bureau to ensure that you are hiring a reputable company that will show up when they are needed and get the job done right.
4. Quality. Checking references comes in handy for discovering the quality of a snow contractor's work. Do they just fly through the parking lots and hastily clear walkways just to hurry on to the next job, leaving a layer of dangerous ice and slush behind? Or do they rip up your lawn and cause other damage in haste? You want to hire a company that is going to provide each and every one of their clients with quality snow removal that keeps your property safe and well-maintained.
5. Communication. Avoid any contractor who uses ambiguous language when explaining their services and pricing. An honest contractor will communicate clearly and answer any questions you may have. They are willing to discuss their plans for snow removal in detail, and will address any concerns in a prompt manner. Also ask about their system of communication before, during and after the storm.
6. Expertise. Professional snow removal companies have an expert understanding of the processes required to safely remove snow and ice. They can develop plans for effective property clean-up and execute these plans in a timely manner, resulting in outstanding quality. Choose a company that has years of experience and the equipment needed to manage any size storm.
Please feel free to contact us for more information on safe and reliable snow removal services in Chicago, IL.