The One To Call For Bronx Commercial Snow Removal!
Brancato Snow & Ice Management is the one to call for The Bronx commercial snow removal! We serve New York City, Northeast New Jersey, and our beloved Chicago (where we started many years ago). Our company has successfully grown because we provide the same dependable and excellent service that we would expect ourselves.
We bring our unique level of determination and excellence to the Bronx because we see the same grit in this All-American City! From Wakefield to Mott Haven, this city is packed with amazing sights and plenty to do. This is an important center for Latin Jazz and the birthplace of modern Hip Hop. Always dedicated to an independent and artistic spirit, some of the most prominent Off-Off-Broadway theaters provide entertainment for the city. This proud heritage comes from such revered institutions as The Bronx Zoo and New York Botanical Gardens, which provide a grounding in the rich cultural side of our thriving city. Our diverse cultural heritage is further exemplified by the many different festivals and neighborhood celebrations seen throughout the city. The commercial success of The Bronx over the years can be seen in the many industrial and maritime businesses that call our city home. In a city so complex and multilayered, everything is at a premium…especially parking!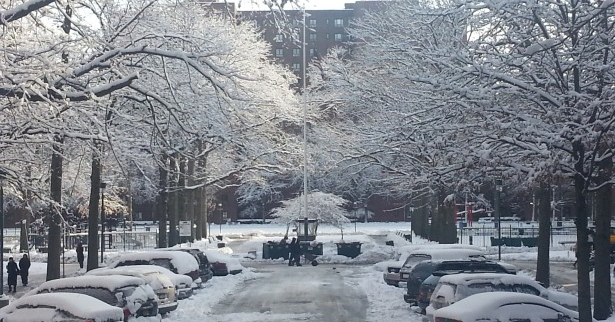 Why Choose Brancato for Your Bronx Commercial Snow Removal?
We are 100% focused on commercial snow removal. Commercial snow removal uses different equipment and techniques than residential snow plowing if you are going to remove snow cost-effectively. We move large amounts of snow and ice quickly to keep your costs low while preventing damage to your property. We have the capability to melt snow on-site without bringing in numerous large trucks for hauling. This decreases inconvenient and damaging truck traffic and reduces snow removal costs. Our crews will not be distracted by the complications of residential jobs when your business needs us the most!
Because of our success and management, we are able to offer services that the smaller companies have to outsource. We keep the right equipment near you to take care of your snow and ice quickly and efficiently. Our crew is always ready to support businesses, organizations, schools, airports, and municipalities. We use a large crew to service our clients, and we can keep you open 24/7 depending on your need. The weather is closely monitored during the winter allowing us to be ready to tackle any dangerous winter conditions. We have the equipment, training, and experience to do the best job at a great price.
What Separates Us From The Competition
Two other factors that separate us from the "guy and his truck" snow plow contractors are planning and record-keeping. The way to have the right equipment in the right place at the right time is through careful evaluation and planning. Our crew will evaluate your property in relation to what your needs are, where your property is located, and where our equipment is stored. This will ensure that we are not overwhelmed by jobs when the storm hits and that we are able to quickly adapt to changing conditions. If you need your property completely cleared of snow, we will need to determine the best way to remove it. We will clearly mark obstacles and spots that need extra care ahead of the winter weather. We want to care for your property in the best way possible while providing the best service to keep your property cleared.
Good record-keeping is important to verifying the work that is being done for our customers and protecting them against frivolous lawsuits. We are dedicated to doing the best and most consistent work possible. Additionally, we want to make sure that you have the records to adequately track it. Good record-keeping can help you if you are facing an illegitimate lawsuit by showing the courts that you are regularly maintaining your property and can prove when unsafe hazards like ice and snow have been removed. An estimated 1/3 of winter slip-and-fall lawsuits nationwide are determined by upon existing documentation regarding your snow removal after each and every storm.
As a part of our record-keeping system, Brancato uses an advanced software system to provide two additional benefits. Firstly, you can always know the status of your property from your own computer by logging into our customer portal. Secondly, the software documents the work completed and keeps the documentation on file for years to come.
Call TODAY for a Free Estimate
Get the commercial snow removal service you want and need! Call Brancato Snow and Ice Management TODAY for a free, no obligations snow and ice management quote. We will ensure you, your clients, and your team members are safe during the winter months at the service level you need.