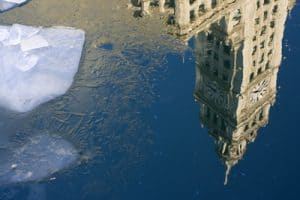 Anyone who owns or manages a business in the Chicago area knows that winter weather in the metropolitan area and throughout Illinois can be wildly unpredictable. And after 26 years of plowing Chicago snow and melting ice, no one "snows" Chicago winter weather and how fast a snow storm or ice conditions can sneak up on us better than our team at Brancato. The element of surprise is even more true during this strong El Niño winter where temperatures are 20 degrees above average one week while the next week brings dangerous rains and melting creating dangerous black ice and slippery surfaces for all who venture out. The last thing you need is a snow and ice removal company that's just as unpredictable as the Chicago weather.
What to Ask Your Chicago Snow Removal Service Provider
In many respects, choosing a Chicago snow removal contractor is similar to selecting any type of contractor. You want one that is bonded and licensed and has good references. However, going beyond those references to see what makes happy customers is an essential step in finding a good commercial snow removal service. Here are some questions to consider asking.
Are You Ready for ANY Size Storm?
Your Chicago snow removal company should have an emergency plan so they are prepared for anything, yes ANYTHING, that could happen when a winter storm hits Illinois. Winter storms are notorious for hanging over the Chicago area longer than weather forecasters predict. Make sure your snow removal company has more than one shift of operators on call to account for such situations. And ask about their fleet size, ice melt supplies, number of businesses they take on and more to be sure you will get the quick and thorough service you need to keep YOUR business open and safe.
How Do You Track & Communicate Weather Updates?
Similarly, your commercial snow removal company should be able to react quickly to changes in severe weather. They should have advanced storm monitoring in place 24/7 and a communications plan to alert customers to storms. Heavy snow flurries can hamper areas closer to Lake Michigan, while other areas stay relatively dry, yet a suddenly change in wind direction can bring lake effect snow over a previously unaffected area. When temperatures are hovering near freezing, southern part of the metropolitan area may experience rain, sleet, ice or a mixture, while northern areas may have only snow. Snow plow crews should have the appropriate chemicals for conditions, equipment and technology to satisfactorily remove any precipitation encountered.
When Will You Service My Property?
You will also want to make sure that your Chicago snow plow company performs ice and snow removal duties by the time limit stated on your contract. This facet is just as important in winters with heavy precipitation as it is in El Niño winters. Not having enough crew members on hand because of the mild winter or because too much snow has fallen can possibly indicate an unreliable contractor who is trying to cut corners and they are likely to be caught unprepared.
Contact us at Brancato Snow and Ice Management for a quote or additional tips on how to keep your business safe and free of winter dangers.