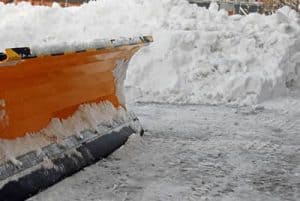 With the official onset of fall, many Chicago businesses are starting to prepare for the arrival of winter–and that means addressing your snow removal needs. The last thing you want is to be caught off-guard when winter arrives. Instead, take time to look at your property and ask these seven important questions as you prepare for commercial snow removal in Chicago.
1. Where is the snow going to go?
Do you have space where the snow that's been cleared from parking lots, walkways, and other areas to go, or does it need to be moved off-site or melted?
2. What walkways need to be cleared?
You want to provide your customers with a safe space to walk around the property, but you might decide that it's not worth clearing all of the walkways. Be sure that you and your snow removal service have a plan in place for which areas are critical. You might also want to consider what walkways need to be dealt with immediately and which ones can wait until the snow is done falling in the event of light snowfall or icing.
3. What's in the snow removal area?
If you're using salt chemicals to help melt the snow, you want to know what else is in the area. If kids or pets are a consideration, mention that to your snow removal company up front to help develop a secure plan that will keep them safe.
4. What hazards are at your site?
Speed bumps, drainage grates, ramps, and low spots are all potential hazards that snow plows don't want to hit. If you have these hazards on your property, you'll need to find a way to mark them before winter arrives.
5. How much traffic do your walkways get?
The type of traffic is also important. Some facilities need meticulous level ice management, where no ice is allowed at all. Others may be able to allow some ice, especially while snow is still falling.
6. When is the best time to remove snow and ice?
Is there a particular time when it would be very inconvenient to have plows on your property? How will your opening times be impacted as a result of overnight snow and ice?
7. What intricate areas on your property may need more precise attention?
Some areas may require hand shoveling or precise salt application instead of the use of plows. Be clear about these areas ahead of time, especially since it may not be possible to see them clearly underneath a layer of snow.
Developing a solid plan before winter approaches will enable you to prepare for the arrival of snow and ice without panicking when it does show up. The last thing you want is to be scrambling at the last minute to remember exactly what your parking lot looks like when it's under a fresh layer of snow! If you're ready to start working with a professional to deal with your snow and ice removal throughout the winter, contact us today.