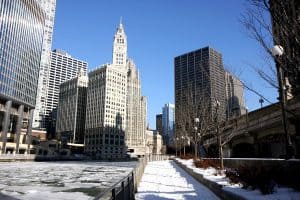 If you've lived in Illinois for any period of time, you understand the need for effective snow removal during the winter months, especially for businesses. But how do you know what to look for in a good commercial snow removal contractor? Here are some of our tips:
Make sure they're insured. This is, perhaps, one of the most essential traits that your snow removal company should have — this protects the company from liability, and protects you from damages.
Make sure they have a snow response plan. This is another essential trait of any professional snow removal company — if the company is in an area where there's a lot of snow during a particular season (such as in Chicago, which is known to have brutal winters), any professional snow removal company is going to need a proper snow removal plan.
Make sure they have extra equipment and materials that are easily accessible, especially in the case of an emergency. Even the best equipment can fail from time to time, and in the event of a catastrophic snowstorm, more equipment than usual will be needed. Your snow removal company should have this contingency equipment at the ready at all times.
Brancato's is pleased to service the greater Chicago area for all professional commercial snow removal needs. If you're looking for the best commercial snow contractor, contact us today to see what we can do for you and your business. We have an unparalleled reputation in the industry, and in the greater Chicago area. We look forward to serving you.