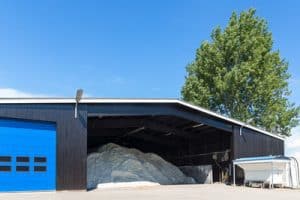 Rock salt shortages have become a re-occurring problem in regions of the country that suffer the worst inclement weather like Chicago. As the winter of 2013-2014 dragged on, road maintenance and professional snow removal contractors were faced with low supplies of available rock salt. The winter of 2015-2016 proved to be just as harsh due to constant thawing and re-freezing and the threat of a rock salt shortage loomed. At the start of 2015, St. Louis Fox 2 Now News reported that one of the nation's snow and ice companies ordered 10,000 tons of salt from Egypt just to meet the demands of the area's snow removal companies and to stockpile the essential item.
Whenever a rock salt shortage strikes, we are faced with inflated prices and very little variety. The best snow removal companies stock up on rock salt products before the supply is depleted each winter or becomes non-existent. Advance planning, purchasing, and storage are required so companies don't run out.
If you own a Chicago company and are considering stocking up on rock salt yourself and handling your own snow removal needs, consider the space it takes to store salt and equipment along with the risks involved in storing rock salt.
Storing Ice Melt Should Be Done With Caution
If a company decides to stockpile rock salt, they should always take into consideration the proper storage requirements to keep the product viable. Rock salt products exposed to excessive moisture become unusable. All rock salt should be stored in a dry location prior to use. Storage temperatures are also a serious consideration. If rock salt is stored in temperatures that plummet below 20 degrees Fahrenheit, it can start to clump together.
At Brancato Snow & Ice Management we like to plan ahead so we can meet the needs and demands of our customers. Our goal is to make Chicago winters easier for our customers. We store the salt and equipment to make sure your Chicago snow removal services are completed fast and correctly – reducing your headaches and risk. Please contact us to learn more about our snow and ice removal services.