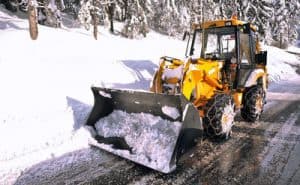 As a snow plow company we know owning a business in Chicago means one thing during the winter months: SNOW. Although it's beautiful, it can be dangerous not only for you and your workers, but for your customers as well. So why hire the best commercial snow removal services in Chicago? It's simple – hiring the best protects you from business losses that are common each Chicago winter.
How Can Professional Snow Removal Reduce Losses?
The Best Snow Comanies Keep Your Business Open
Regardless of the size of the storm or if people choose to go outside and brave the weather, your organization should be plowed and ready for business. Snow removal companies with enough equipment, planning and personnel know how to handle any size storm so you don't experience a financial loss by having to close shop.
The Best Snow Plow Companies Are Risk Managers
It's vital to understand that the most advanced snow removal service providers don't just think about plowing snow. They think about the risks around snow and ice and put written plans into place that help your company if any slip and fall lawsuits are filed. Having a certified company managing your snow and ice control puts you at an immediate advantage when you might be threatened with litigation so you don't experience a loss in your pocket book or public relations standing.
The Best Snow Plow Companies Manage All Details For You
Your team shouldn't be bothering with sloppy shoveling, sprinkling ice melt and clearing snow instead of the jobs that they were hired to do. Not only does utilizing your team for snow-related tasks waste their time, but it puts your property at risk. They are not trained on proper amounts of ice melt to use so it doesn't damage your surfaces or lawns. They might also rush to get back to their normal job, leaving important areas untouched or insufficiently clear. Using a professional snow plow company eliminates a loss of productivity at your business.
A skilled group of professionals will not only be able to help your business by removing the snow and ice, but will help reduce your stress. Less stress is one loss you'd like to have! In today's day and age, when so many people are quick to slap a slip and fall lawsuit against your business, it's important to make your business as safe as possible and we would be happy to help.
That means not only making sure that your parking lots and walkways are clear, but also to have plenty of clean dry mats as you enter the premises. Since this is our sole business, you can be sure that we are 100% focused on giving you exactly what you want and need for snow removal and ice management.
How?
When you decide to go with us, you'll find that we are very flexible and want to work with you. We will send you weather alerts before, during, and after storms. Additionally, you'll be kept up to date with the snow and ice removal process, which includes precise plowing with the right sized vehicles. Because snow removal is our specialty, we have several different sized vehicles to correspond with different sized jobs.
You'll also receive very detailed invoices for your own records, and have direct contact with crew managers should you have any questions. Using professionals will give you the peace of mind that the job is being done properly and that your business will be taken care of.
As mentioned above, each Brancato customer can get exactly what they want from our Chicago snow removal services. All you need to do is contact us to learn more!