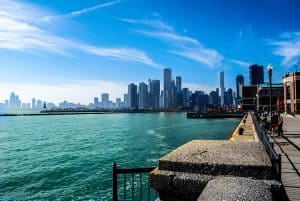 Sunny, upper 70's to low 80's… does it get any more perfect in Chicago? It's time for swimming, biking, jogging, and playing outside where the sun's rays can light up your day. It's also time to kick back and start some planning to make sure your business is nice and prepared for when those temperatures drop, along with their white, flakey friends. Planning for commercial snow removal now when there is no urgency will prepare your business without the stress of last minute emergencies.
Get a Head Start on Winter Preparations
It may not be the most uplifting thing to think about, but in just a few short months our temperatures are going to start dropping. Fast. We've all had those winters where the slick stuff has surprised us, and remembering those times will help motivate you to ensure you're prepared.
While you're looking at your barbecue, enjoying that time with family, take a few moments and look at your equipment. Making sure that your shovels are in working order can help prevent unfortunate discoveries during the year's first dump of the white stuff.
De-icer is also important. Slipping and falling can be very painful, and walking into your maintenance room and finding you've barely got enough to de-ice your sidewalk, let alone that ice rink you used to call a parking lot, just adds more pain to that throbbing rear.
Line Up the Pro's
Of course, not every job can be handled by yourself, especially if you own or manage a business or property. The benefits of hiring a professional for snow removal are vast – from saving time, to reducing work-related injuries, to eliminating the risk of slip and fall lawsuits. Having some experts lined up and ready to can be a lifesaver. We've been helping Illinois businesses with all things cold and slippery for years. Contact us to find out how we can help you prepare for the cold, while you enjoy the warm.