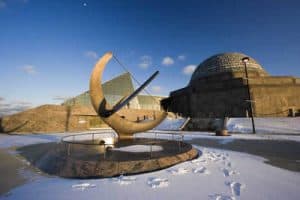 Has your business contracted with a Chicago snow removal company yet? Yes, it's hard to stop basking in the warm Chicago sun long enough to envision your company buried in snow and ice… Trees and flowers are blooming and the lawn mowers are humming. But you don't want to wait any longer to set up a contract if you don't have one yet. So here are some tips to help you hire teh best Chicago snow removal service for your company:
When Should I Explore Chicago Snow Removal Services?
Now!
June, July and August are the best times to make arrangements for next winter. When you are looking for estimates, potential contractors can visit your property and help you evaluate your needs better while everything is visible. They can locate possible obstacles as well as landmarks. They can also formulate a plan for where to store snow on site or determine if snow melting or hauling off-site is needed. The company you choose may also want to install subtle guides such as driveway markers to alert them of obstacles like fire hydrants, speed bumps or curbs. Don't let procrastination through spring and summer catch up to you when the first snow flies in early winter. This winter is predicted to be more severe than last year, so don't wait!
Why Hire a Professional Snow Removal Service?
Customers may shy away from businesses where they feel unsafe in the parking lot or where entrances don't appear neatly maintained. Besides that, it's important to keep yourself, your staff and your customers safe. Having safe parking lots and entrances delivers the message that you care and that's a good start to customer courtesy and satisfaction. Delivering the message that you care and are committed to safety also helps avoid costly law suits. Just one slip and fall accident is all it takes to cost a fortune. Even settling out of court, you may be held liable for medical expenses or time off work.
How To Compare Snow Removal Services
Look for a company that has a trained and experienced team available 24/7/365. Talk to Brancato for starters! Find out what kind of communication you can have with the crew leader responsible for your area. Can you talk directly to that person or will you have to play ring-around-the-rosie to get any answers? What about their equipment? A company serious about clearing snow will have plenty of the appropriate equipment for all of your needs, from plows to de-icer equipment to shovels. And that equipment will be well-maintained so that it will work when you need the service. Finally, a reputable company will be glad to give you a free estimate after learning from you what your specific needs are.
To summarize: When, why & how to hire the best commercial snow removal services, "when" is now; "why" is for safety and comfort and good business; "how" is ask questions and make sure they've got the tools and the experience you need.
If you need the best snow removal service in the Chicago area, contact us. We've got the right stuff to remove the white stuff from your location promptly and efficiently, 24/7/365.