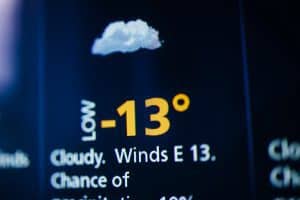 If you have a business in Chicago, you're accustomed to how quickly winter sneaks up on us and how brutal it can attack. Chicago businesses understand the need to be prepared for winter and all the fun those cold frosty flakes can bring to the table – or parking lots. At Brancato Snow & Ice Management, we live for snow and the development of proper snow plowing systems to make sure it's removed safely. We monitor weather 24/7 and communicate with our customers before, during and after the storm. We also like to educate and empower our customers to be prepared too! So here are some practical tools, tips and weather apps you can use for monitoring winter storms in Chicago.
STEP 1: Know When the Storms are Coming:
Sign up for Chicago Extreme Weather Alerts, so that you can be prepared and communicate with your staff and visitors to your location as needed. As an employer and business manager or owner, you are legally obligated to offer staff and visitors an environment that has no recognized safety hazards. Winter weather can cause issues that are just as dangerous as a loose floor boards or broken elevators.
Check out the National Oceanic and Atmospheric Administration, (NOAA) website. It offers up-to-date weather information for every state in the US. In addition, you can enjoy a quick loading, ad-free weather website for once!
STEP 2: Prepare Staff
Communicate weather alerts and news to employees quickly and clearly. This may be more than an email or word-of-mouth message.
If they enter the building using a specific entrance or doors, put up large signs alerting them to the weather coming.
Distribute a handout that tells them how to dress properly for the weather and what protective clothing you expect them to wear if they work outdoors.
Distribute handouts telling employees what you feel are safe work practices during a major storm. Should they wait for a cancellation or delay text before leaving home for work? Should security walk them out to their cars?
Train your staff on self-monitoring, co-worker monitoring, first aid and emergency response for winter weather issues.
Consider holding a cold weather seminar or presentation every year, or playing a video when you hire new staff; so that you reduce your risk when it comes to liability (an employee can't sue you for not properly warming the office if she's been informed that you keep the temperature at 75 degrees; and you've asked all staff to wear long sleeves after October 1st; yet she continues to wear tank tops). When you present your position up front, you leave very little room for liability issues.
Lastly, don't lock doors until all staff has left the property. People need to be able to wait safely in a warm area for rides and vehicle repairs if needed. This could mean leaving your office or lobby open well into the evening.
STEP 3: Plan for Effective Snow and Ice Removal
It's important to decide who you're going to call to remove dangerous snow and ice conditions from your parking lots, sidewalks, driveways, garages and other outdoor areas. Trying to figure out who to call and who does thorough work at the last minute is a nightmare. Find a reliable snow removal company. Need help knowing what to ask? Check out our blog post on what to look for in a good Chicago commercial snow removal contractor.
Or just contact us at Brancato Snow Removal, we have been providing thorough and professional snow and ice removal for Chicago businesses for many years. We know how to make your outdoor surfaces safe, so you can rest easy.