Just seeing an emergency coming a mile away doesn't mean that you are prepared for it. If you don't have a plan in place long before the arrival of a serious storm, you will find yourself scrambling. If your business is important to you, having a snow removal services plan in place is essential.
Snow Removal Services Are Not A Last Minute Plan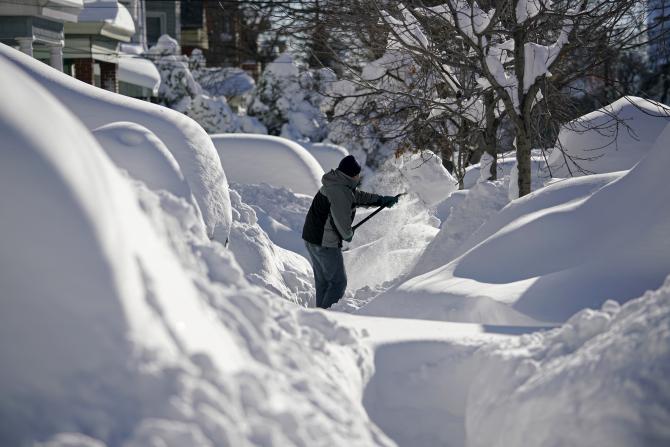 Winter storms seldom come as a surprise anymore. Meteorological science has made tremendous strides over the past 50 years. This allows us to have more warning regarding potential storms that could cause damage or loss of work. But even with a prior warning of a couple of days, businesses can be hard-pressed to make the necessary preparations, such as contracting snow removal services.
Preparing For a Massive Blizzard
That was the case for Winter Storm Jonas, which devastated the Mid-Atlantic and New England regions in late January of 2016. Produced out of an unusually strong La Nino, the storm initially showed up as a shortwave trough in the Pacific Northwest. It strengthened as it moved across the continental US. It finally spawned a low-pressure system that produced multiple severe thunderstorms and tornados across the Gulf Coast states. As the storm grew in intensity in the South, another storm raced ahead of it out of Alberta. The smaller storm produced much less precipitation which melted quickly. This led to slick conditions on many roads throughout the Mid-Atlantic states and New England. These conditions hampered efforts to get prepared for the incoming blizzard for residents of Virginia and Maryland. The blizzard was just two days away.
Governments and businesses scrambled to prepare for the incoming storm. Forecasters were warning that it had the potential of dumping up to 12″ of snow. In hours before the storm reached the metro areas of Philadelphia to New York City, however, the meteorologists doubled their forecast totals. The models began to show far more significant snowfall totals, triggering warnings from state and local governments. Snow emergencies were declared throughout the region. Transit authorities closed bus routes and subways. Airports canceled flights. Snow removal and ice management vehicles were mobilized on all major thoroughfares. As far south as Richmond, VA cities and airports were shut down. Travel bans were issued in south-central Pennsylvania, southern New York state, and New Jersey. The National Guard was mobilized or put on standby in most of the affected states.
Winter Storm Jonas Strengthens
The storm continued on, producing tornados and straight-line winds in Louisiana and Mississippi. Arkansas experienced snowfall over a large portion of the eastern part of the state, effectively shutting it down for a time. Heavy snow fell in Tennessee and Kentucky. This caused hundreds of accidents and left hundreds of drivers stranded for nearly a day along a stretch of I-75. Jack-knifed and wrecked tractor-trailers blocked a stretch of I-77 in West Virginia, requiring the National Guard to provide food, water, and fuel to stranded motorists. High winds and ice took their toll in Georgia and the Carolinas. Approximately 243,000 people were left with no power. Downed trees and power lines also blocked roads throughout the region. While snow was seen as far south as the Florida panhandle, this storm had yet to show its true power.
As Winter Storm Jonas (as it was now called) moved up the Eastern seaboard, the snowfall increased dramatically. The storm would eventually be classified as a Category 5 winter storm. It swept into Virginia and West Virginia, closing roads, causing accidents, and collapsing roofs. After the collapse of the roof of the Dunk's Theatre building, it was declared a total loss and had to be demolished. The force of the record-breaking snow and winds blocked building vents and car exhausts, killing some and sending others to the hospital with carbon monoxide poisoning. Pennsylvania took the brunt of the strengthening storm, as well. Record-breaking snow fell as the storm closed roads throughout the state.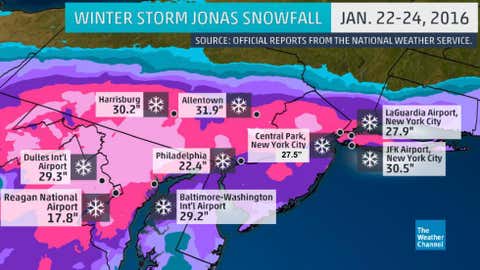 Jonas Devastates New England
By the time the storm reached Delaware and New Jersey, it was at full strength. Now that it had reached the Atlantic Ocean it added coastal flooding, beach erosion, and damage to piers from wind and waves. The Ocean City fishing pier was completely destroyed. Meanwhile, the effects of the increasing snowfall were felt by every metro area in a corridor from Harrisburg to Long Island. In areas such as NYC and Long Island, the snowfall was coming in at 3-inches/hour.
Record snowfalls were observed at JFK International Airport on Long Island, Central Park in New York, and downtown Harrisburg. The snowfall would be more than a foot of snow in at least fourteen states, with seven of them reporting over 30-inches. The storm effectively shut down the Eastern quarter of the United States. It took days before some neighborhoods in Washington, D.C., New Jersey, and New York were cleared of snow. New York City ran out of places to put snow fairly early in the process. President Obama declared disaster areas in five states and the District of Columbia.
Stranded On The Turnpike
Businesses around the region had worked hard to prepare with the little warning they had. However, there was one business that was less prepared than they realized. With snow falling at a rate of 2-inches an hour, the road crews on the Pennsylvania Turnpike struggled to keep the major traffic artery open. Their resources were stretched thin because the previous storm had drained them. At the height of the storm, PennDOT had over 2,200 vehicles out clearing the roads. But in spite of their best efforts, the intensity of the storm won the day.
On January 22nd, approximately 500 vehicles became stranded on the Turnpike for over 24 hours. This included the Duquesne University men's basketball team, the Temple University women's gymnastics team, and a charter bus from Owensboro Catholic High School in Owensboro, KY. Some travelers were able to exit the Turnpike in time to seek shelter at local hotels and restaurants. The Red Cross set up shelters at local churches and schools to provide a place to rest and get food for 750 people.
Learning From Our Experiences
The Pennsylvania Turnpike Commission CEO Mark Compton launched an after-action review following the storm. PTC is implementing 22 action strategies that came out of that review. One is to ensure that there are a sufficient number of access and median gates to allow for traffic to be rerouted as the lanes are clear. Additionally, they are locating stockpiles of water, food, shovels, and blankets so that they are positioned every two hours along the route. They are also discussing future shelter options for stranded motorists and parking areas for tractor-trailers.
It is important to learn from past experiences in order to be prepared for future emergencies. A frustration for city planners was that the subcontractors that they use to help with snow removal were already on the task of clearing parking lots and roads for their customers. Those resources were not available to help until they were finished with their contracted customers. Once the subcontractors were finished, those without contracts had to wait until they were finished helping the local governments. If you live in an area that regularly has snow during the winter, it is essential to your business to have a snow removal services contract. If you don't, you could find yourself at the end of the line waiting for someone to be able to clear a path to your business.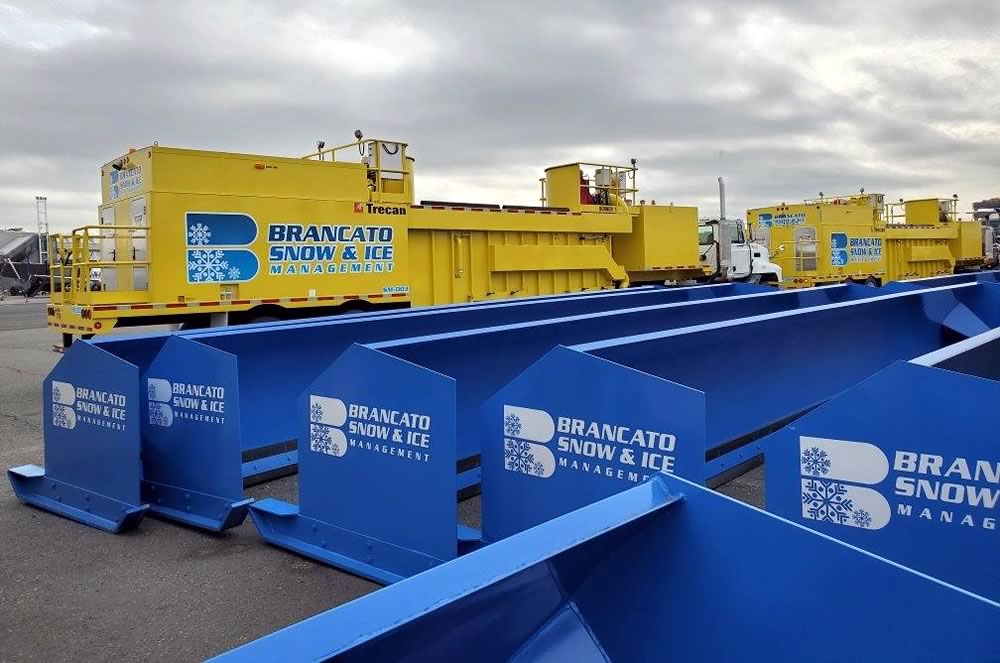 Choose Brancato For Your Snow Removal Services
At Brancato, we are dedicated to giving you the best snow removal service at the best possible price. Our crews are professional and we pride ourselves on our preparedness for the winter's worst. Contact us today to get a free consultation and quote. We guarantee you will be satisfied!