Contract With Snow Plowing Services Early
Have you considered planning early for snow plowing services for your business?
Many people don't like to face the specter of early winter weather. But even recent history has taught us to be prepared for the early snowfall of November. The late fall of 2018 and 2019 both saw major snowfalls in the New York and New Jersey areas. These storms adversely affected commutes and hampered the normal activity of thousands of businesses. Some of those businesses hadn't considered the importance of contracting with snow plowing services. Their lack of planning left them with hindered employees and their doors closed to customers.
An Early Season Surprise Snowstorm
In mid-November of 2018, meteorologists were tracking a system that held little promise of significant snowfall. They issued forecasts that were interesting only in that the slight snowfall was earlier than usual. It might mean a slick spot here or there and a thin covering of snow in the grassy places. An increasing number of them became concerned. They worried about the potential frontogenesis that could develop along the leading edge of the storm as it approached.
Frontogenesis is a term for the tightening of the temperature gradients in a cold or warm front. Matthew Cappucci explained in the hours preceding the storm: "It's basically a tightening of horizontal temperature gradients in the atmosphere. When a big change of temperatures exists over a short distance, it can boost precipitation rates substantially." The concern was that the expected dusting of snow could become a substantial amount falling over a short amount of time. Cappucci and the meteorologists who joined him in these early cautions would soon be proved correct.
From Bad to Worse
Over the course of the next several hours, the concerns of a few became the warnings of many. This left emergency services and transportation departments scrambling to get people and equipment in place. Unfortunately, there simply wasn't enough time. The evening commute was complete havoc and tens of thousands of people were in jeopardy. This was especially true in New Jersey. Travelers were stranded for hours in cars and on buses as temperatures dropped and snow piled up. The roadways were not prepared for the onslaught and equipment wasn't in place to clear the increasingly hazardous transportation arteries. Highways and side roads alike became parking lots or treacherous paths. Commutes of an hour became five hours or more. Police and emergency crews strained under the urgency of so many people stuck in immovable traffic.
When all was said and done, some parts of New Jersey had accumulations of 6-8 inches of snow. Central Park measured 6.4-inches. Other parts of New York State reported snowfall totals of 13-18 inches. The storm moved quickly up through New England and Quebec. Those areas saw 4-6 inches and experienced similar delays as state and provincial governments were caught off-guard. The northern New England states would only have another 10 days to get back to normal. A more substantial blizzard brought an additional foot of snow by the end of the month.
Learning From Past Mistakes
By the next November, the Northeastern states were better prepared for dramatic changes in winter weather predictions. In 2019, the month of November was free of any snow. Thanksgiving came and went during those last chilly days of the month with hardly a flake of the white stuff. But during Thanksgiving weekend the meteorologists were watching a snowstorm coming across the United States that would change all that.
Coming Ashore Fast And Furious
The moment the storm came ashore along the border of California and Oregon it was already setting records. The bomb cyclone produced an alarming low-pressure reading of 973.4 millibars. The barometer dropped an amazing 43 millibars in less than 24 hours. That falling pressure produced wind gusts over 100 MPH. The colossal storm created heavy rains and flooding throughout California and Arizona, even as far south as San Diego. The cold air that it brought along with it lowered the freezing levels below elevations of 3000 feet. This allowed some of the higher Los Angeles suburbs to experience snow.
The powerful early-winter blizzard moved over the Rockies and northern Great Plains. Heavy snow combined with high winds, making travel dangerous to impossible. The winds gusted from 45-60 MPH as the storm passed through Montana and the Dakotas. Rapid City, South Dakota was buried under a record-breaking 15.9-inches in one day. The effects of this remarkable storm were felt as far south as the Ozark Mountains in southern Missouri as the center of the storm passed through Minnesota and Wisconsin.
The Blizzard Takes Aim At The Northeast
The storm dumped over 20-inches of snow in blizzard conditions in Duluth, MN. Forecasters in the Northeast were warning people to prepare for the worst. State and local governments, as well as snow plowing services in the region, prepared their equipment and manpower. The storm brought a combination of high winds, frigid temperatures, and heavy snow. A total of eight deaths were attributed to the storm over four days. The storm hadn't even made it to the Northeast yet. Thousands were out of power and hundreds of flights were canceled, affecting travel across the United States. Many were stranded at airports as they attempted to make their way home after Thanksgiving. The storm had caused much chaos so far. Now it was taking aim at some of the busiest and most populous cities in the United States.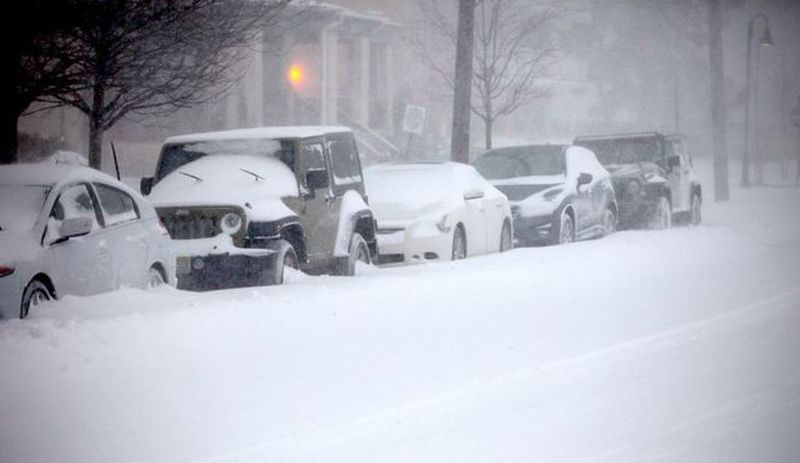 Even with the best preparations, governments and utility companies can be overwhelmed by winter storms. This storm downed trees and buried cities throughout the region in up to 28 inches of snow. Counties in New York were placed in a state of emergency. An additional 80,000 people in the NYC tri-state area lost power. Almost 300 flights were canceled and more than 750 were delayed, causing further travel disruptions worldwide. Remarkably, there were no deaths in the Northeast attributed to this powerful storm.
Snow Removal Is Easier When You're Prepared
The cleanup from this storm took a week or more. In New York, the national guard was called in to help in some areas. Jersey Central Power & Light reported that 21,000 homes and businesses were still in the dark two days after the storm. Most of the power outages were caused by strong winds combined with freezing temperatures. Some people were out of power for almost all of that week.
While there were many businesses unprepared for the ravages of this early season storm, there were many that were. Part of their storm preparedness plan was a contract with a reliable snow plowing services company. They reviewed their property with that company and settled on a plan for removing snow and ice promptly. Because their contractor had multiple equipment locations, they were able to adapt to the changing conditions. As a result, those contractors were also able to flex teams from different locations to cover trouble areas. Some other businesses chose to rely on individuals with only a small amount of equipment. Those businesses struggled to get their snow removed in a timely fashion as those contractors were often blocked by downed lines or impassable roads.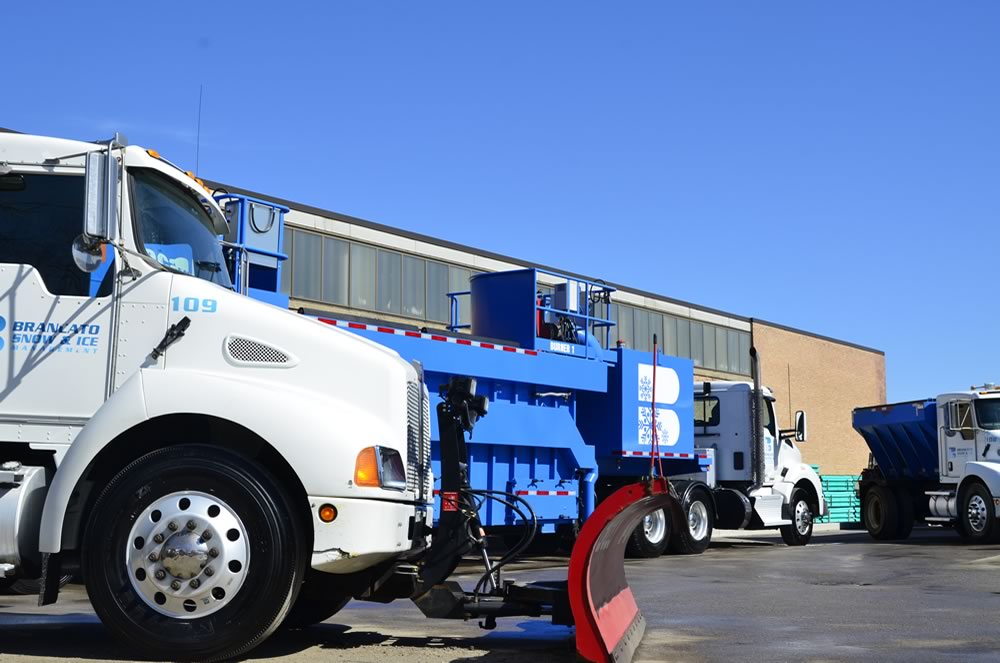 Choose Brancato For Your Snow Plowing Services
At Brancato, we are dedicated to giving you the best snow plowing services at the best possible price. Our crews are professional and we pride ourselves on our preparedness for the winter's worst. We have teams located throughout the metro area to cover your business when it needs it the most. Contact us today to get a free consultation and quote. We guarantee you will be satisfied!